In fact, I like coffee a lot. I like it black, I like it with cream or milk, I like with with sugar or with one of those girlie non sugar sweeteners. I like any combination of them in my coffee. About the only thing I don't like as far as coffee goes are some of the flavors. I want my coffee to taste mostly like coffee. To my way of thinking if you need to buy a chocolate flavored coffee and add all sorts of stuff to it, maybe you are drinking the wrong thing.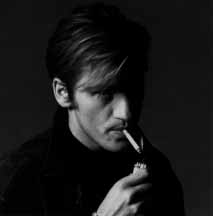 Dennis Leary has a great bit about flavored coffee.
"I'm driving around in my truck, and I see a 7-Eleven, and I think, "Of course, 7-Eleven! I can get a cup of coffee flavored coffee in 7-Eleven. What could be more than the 7-goddamn-Eleven?" I walk in there, sure enough, two big aluminum containers, like the old days, right? One's labeled decaf, the other one has no label, what would you think? I think you would think what I thought. I pour myself a nice cup of coffee, I get up to the counter, go there to pay for it, behind the counter is another eighteen-year-old kid, okay?
So I'm standing there with my coffee, trying to pay for my coffee, he's looking at me… I take my coffee and leave. I get in the truck, I'm drivin', coffee's in the cupholder, I'm thinking about what a FUCKING retard that kid was, hopin' my kids don't turn out like that, all of a sudden I smell maple syrup in my truck. Did the kids spill maple syrup in here? And then I realize it's coming from my coffee, somebody spilled maple syrup in my coffee. I go BACK to the 7-goddamn-Eleven, walk in, put the cup on the counter, I go, "Yo. Yo yo yo yo yo. Come here. Come here. Somebody spilled maple syrup in my coffee." "No, that's the flavor of the month, man. That's, uh, maple nut crunch." Maple nut crunch, okay? Maple nut fucking crunch. Are you gonna tell me that Juan Valdez is down in Bogota right now fielding a field full of maple nuts, I don't fucking think so! In fact, I'm willing to bet my left maple nut that he's NOT! Pull up your pants. My mom used to tell me when I was growing up, "Denis, why don't you wake up and smell the coffee." You know what, ma? I did, it smelt like fucking waffles, okay? Why don't you just throw all the breakfast stuff in my coffee? Yeah, put an egg in there, eggaccino. How about some Cocoa Puffs, puffaccino. God damn it."
-Denis Leary, Lock'N'Load



So, where was I? Coffee..... I really like coffee. It's almost midnight right now and I'm drinking some while I

type. I drink it all day. My blood pressure is still ok, I sleep fine, though not much. I was worried about the sleeping thing for a while. I stopped all caffeine intake for two weeks. I still didn't sleep much. So my being awake a lot is more me than the coffee. Coffee does help me get going in the morning, but I can usually get going with out it too. So the addiction factor, at least so far, is in my head.

I'm sure part of this is an after effect of my being a recovered alcoholic. When I quit drinking I used to do things to take the place of the drinking and the rituals involved. I don't mix cocktails for myself anymore, I grind beans. I mix different kinds of beans.

There is a local coffee place called

My adopted brother, Jeremy Lynch, brings me coffee when ever he visits. He even got me a pound of Bun E. Carlos's coffee.
is a great drummer, but he also knows good coffee. It also might explain some things about the tempo of Cheap Trick songs....
Ok, enough about coffee. I'm going to get another cup.....